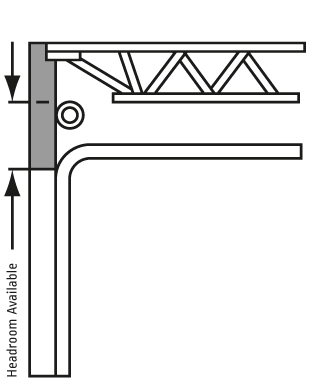 EXTENSION SPRING
Headroom:
12″ Radius = 10″ Required
15″ Radius = 12″ Required
EZ-SET® TORSION &
STANDARD TORSION
Headroom:
12″ Radius = 12″ Required
15″ Radius = 14-1/2″ Required
Sideroom:
4-1/2″ Required
■

LOW HEADROOM FRONT MOUNT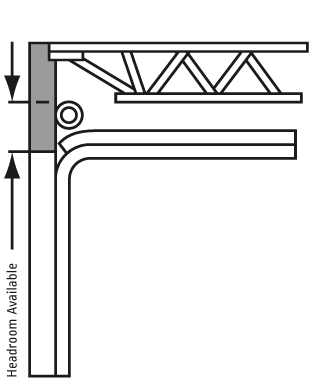 EXTENSION SPRING
Headroom:
4-1/2″ Required
EZ-SET® TORSION &
STANDARD TORSION
Headroom:
9″ Required
Sideroom:
4-1/2″ Required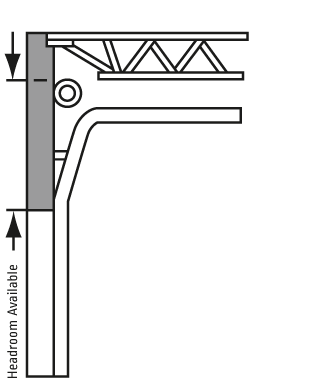 STANDARD TORSION
High lift equals distance from top of door to bottom of horizontal track.
Maximum high lift equals headroom available minus 12″.
Sideroom:
4-1/2″ Required
■

LOW HEADROOM REAR MOUNT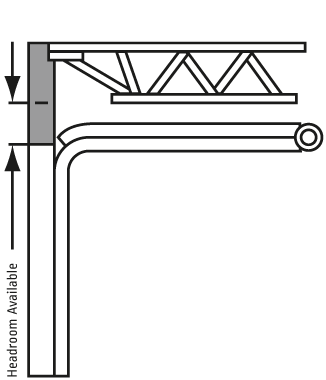 STANDARD TORSION
Headroom:
4-1/2″ Required
Sideroom:
7-1/2″ Required
Headroom = Top of door to nearest obstruction (truss, ceiling, or light fixture). Up to 3″ of additional headroom may be required for a trolley door opener.
Dimensions listed cover the most common applications on doors up to 8'0″ high using 2″ track.