Contemporary Collection Aluminum Series, Contemporary Collection Model AV; Shown in Bronze with White Laminate Glass

Contemporary Collection Aluminum Series, Model AV; Shown in Anodized Clear Aluminum with Frosted Glass

Contemporary Collection Aluminum Series, Model AVI; Shown Painted White with Insulated Frosted Glass
Contemporary Collection Aluminum Series
Contemporary Collection Aluminum Series doors combine aluminum and glass to create a sleek, modern look. Many glass and panel combinations are available for varying degrees of privacy.
Full View Panels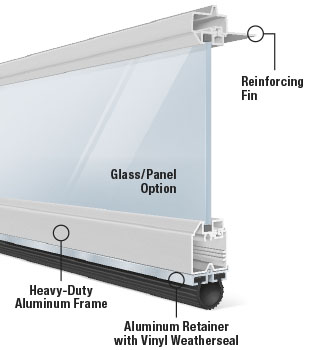 2-1/8″ thick, virtually maintenance-free,
long-lasting aluminum frame. Model AV available with acrylic or non-insulated 1/8″ tempered clear or frosted glass or solid aluminum panel options. Model AVI available with insulated tempered, non-insulated 1/4″ mirrored or White laminate glass options.
Frame – Handle Colors*

Clear Aluminum
(Anodized)

Standard White
(Painted)

Bronze**
(Anodized)

Dark Bronze**
(Anodized)

Chocolate
(Painted)

Bronze
(Painted)

Black**
(Anodized)

Color-Matched
Handles
*Powder coated custom colors available upon request; call Customer Service for pricing.
Due to the anodizing process, slight color variation may occur.
The use of "Bronze (Painted)" is recommended for a more consistent bronze finish color.
**Additional cost.
PLEASE NOTE
Actual colors may vary from sample photos.
Color Disclaimer Information
Glass – Panel Options

Clear Glass*

Clear Acrylic

Frosted Glass*

Frosted Acrylic

Gray
Tinted Glass*

Bronze
Tinted Glass*

White Acrylic

Gray Acrylic

Mirrored Glass

Obscure Glass*

Clear Polygal®

Bronze Polygal®

White
Laminate Glass

Clear Anodized
(Aluminum Panel)
*Available in single pane or insulated glass.
White laminated and mirrored glass not available insulated.
Panels can be aluminum to match the aluminum frame. Glass/acrylic panels may be combined with aluminum panels. Custom glass and colors available.
Acrylic windows require special cleaning. Never use products that contain ammonia or petroleum products to clean acrylic.
Warranties